Meet our Farmers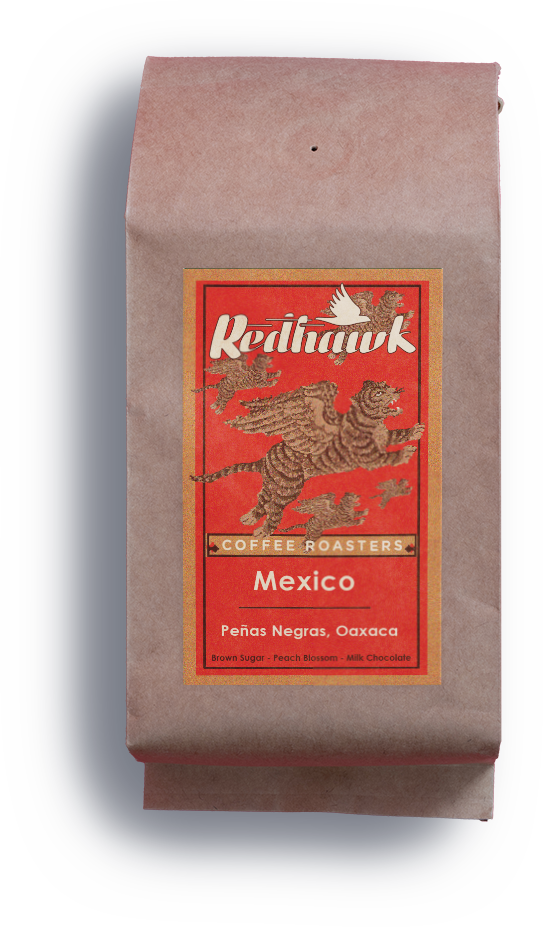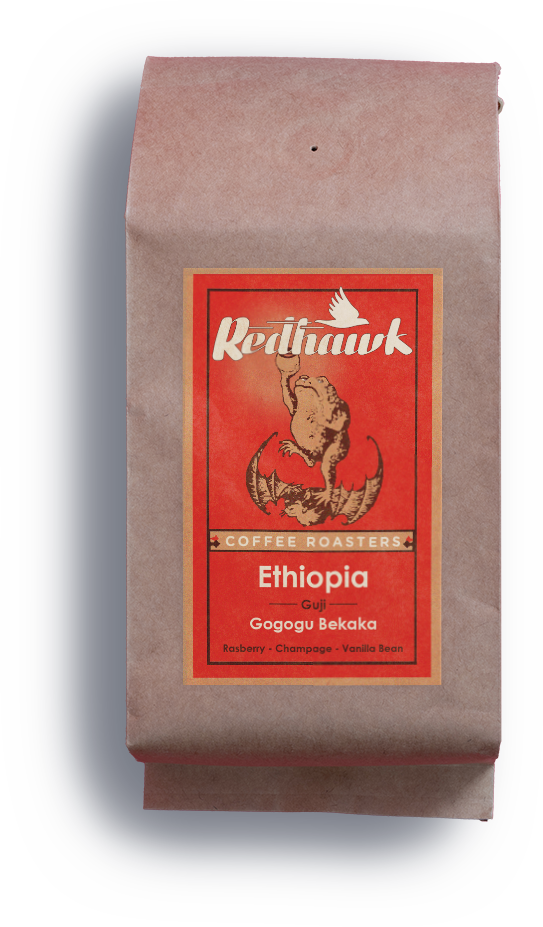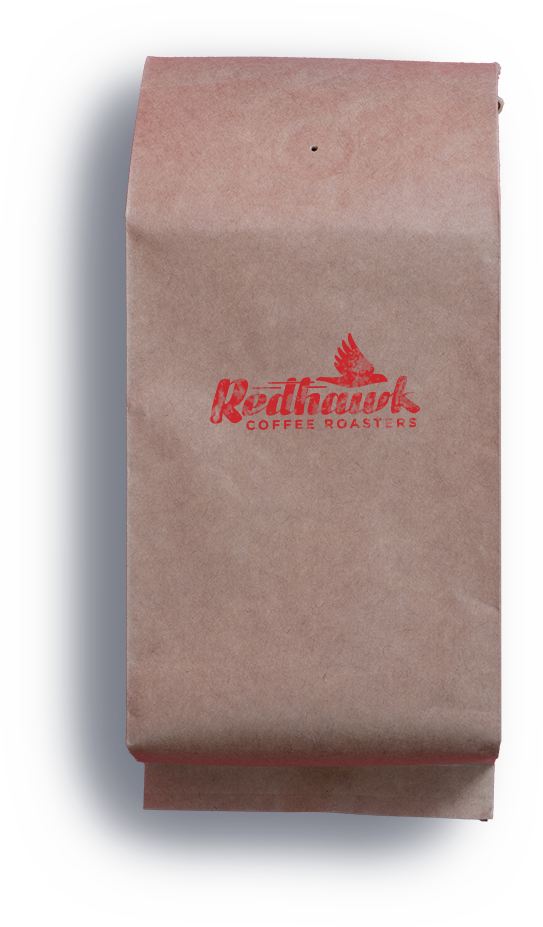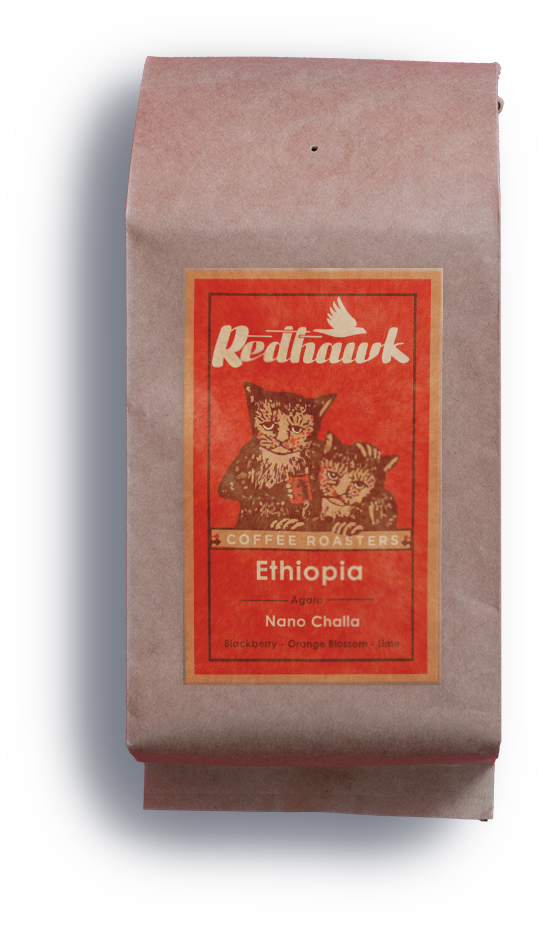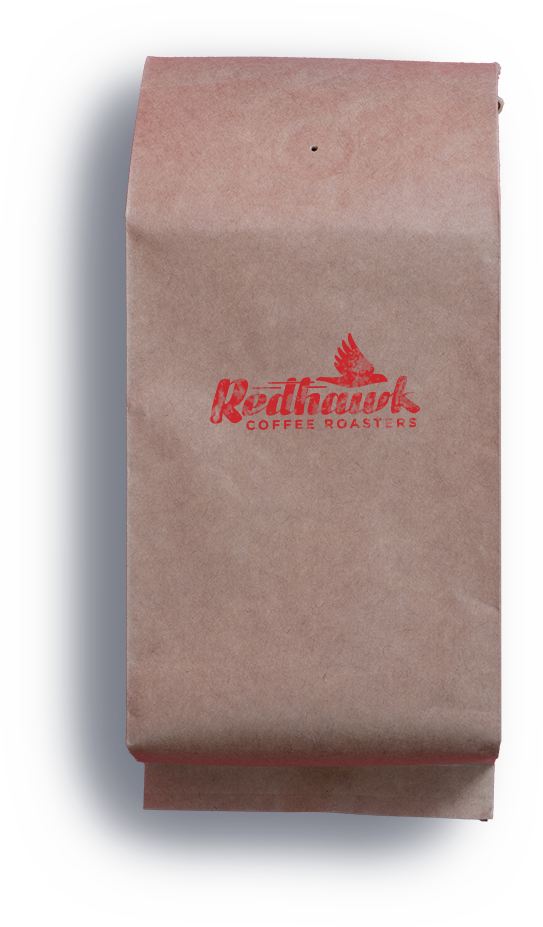 Mexico
Of all our new relationships in Chiapas this year, Finca Santa Cruz is one of the most exciting. Run by the innovative Pepé Arguello, the farm is already achieving widespread notoriety in just its third year running. Last year, Pepe won COE Mexico. He was willing to sell in the auction market but wanted to build something deeper, especially with the rest of his product (just as excellent, but at a more accessible quality tier), mostly made up of Bourbon, Typica, Yellow Caturra, and some Geisha. Pepe's lots' flavor profiles include ripe purple fruit like black currant, raisin, date, and plum, a saturated amber honey sweetness, and a complex acidity, both tartaric and malic, layered throughout. Pepé's father was a well-known producer in Chiapas, and when Pepé purchased Finca Santa Cruz, he decided to build the business around specialty. With land at 1700 masl on the Triunfo Biosphere Reserve, his farming practices reflect his desire for a more precise, agronomically advanced, and conservation-focused approach: he harvests cherry according to Brix (measuring the sugar content of the fruit), ferments according to pH (the actual acidity of the fermentation), and generally seeks experimentation, growth, and collaboration. The area is biodiverse, filled with native Inga trees that also provide shade, allowing the coffee to grow in harmony with the surrounding reserve rather than in conflict with it. Pepe's goal is to slowly increase production as well as quality and gain wider international recognition.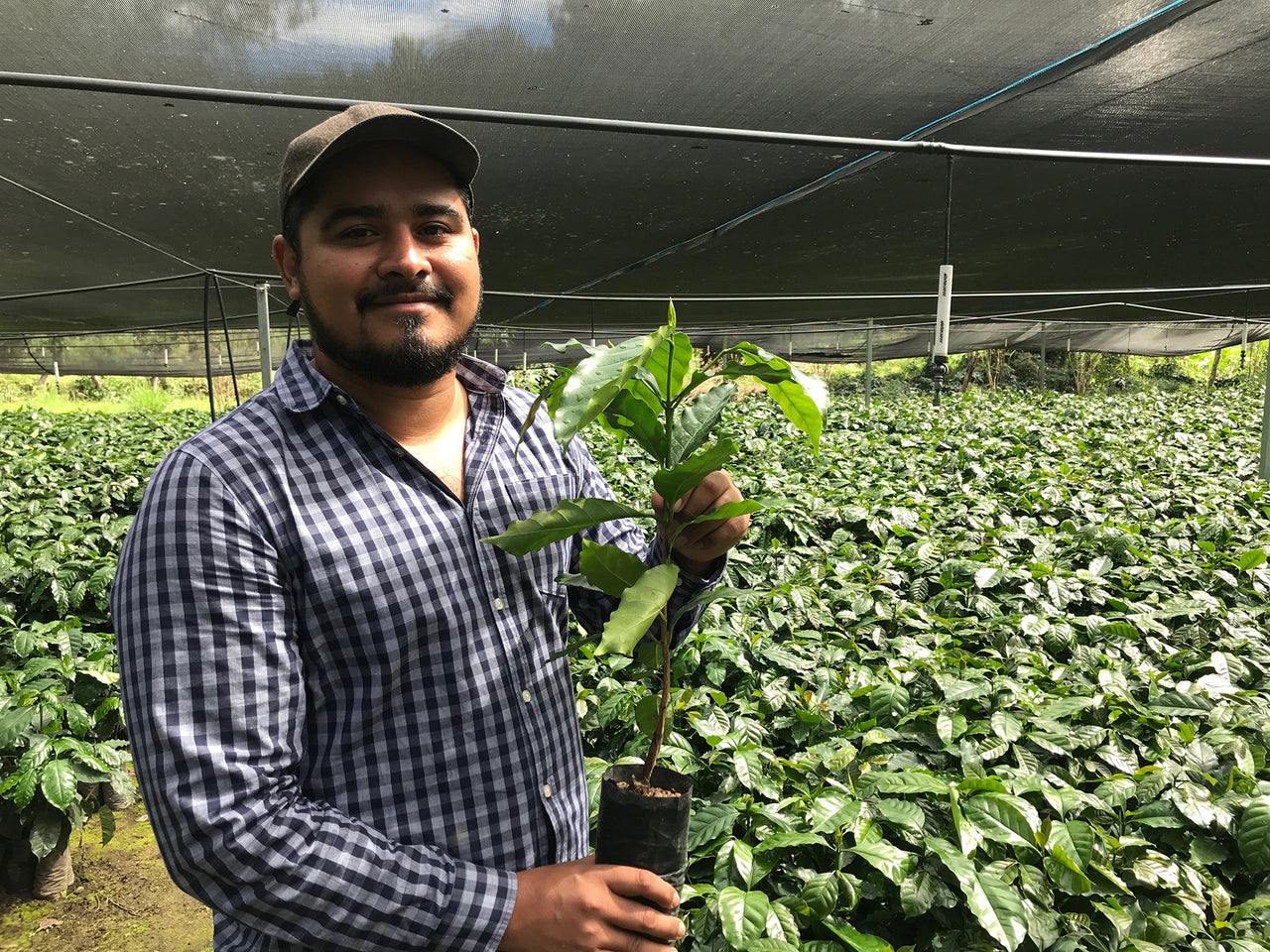 While Pepé is still a small-scale farmer at 60 hectares, we're excited to have a slightly larger lot to offer from him than what we're usually able to get at the producer ID level (for instance, all the farmers we work with in Oaxaca are extreme smallholders averaging just 1-2 hectares). We're able to provide a deeper commitment than what Pepe would find at the auction level and find good homes for the whole range of coffee he produces. Pepé Arguello State Chiapas Municipality La Concordia Farm Name Santa Cruz Altitude 1360-1750 masl Varieties Bourbon, Typica, Yellow Caturra, Geisha Process Washed Fermentation 20-72 hours, dry in concrete tanks Drying 17-25 days, raised beds Harvest January-March Community-wise, the local workforce is integral to Finca Santa Cruz's success in meeting demand. After the community helps harvest cherry, Pepe first floats the cherry in water, then ferments for 20-72 hours in concrete tanks depending on outside factors like weather and ambient temperature, using pH as his guide. He then dries washed parchment on raised beds with mesh covering for 17-25 days. He uses a hydrometer to measure the level of moisture in the coffee during drying. We're excited to work together to help him customize processing for different clients and continue to invest in and improve quality. His practices also help inform and grow education in the surrounding farmer population. He carries on the legacy of his father and his community while advancing with the technologies of the present, producing a truly stellar product.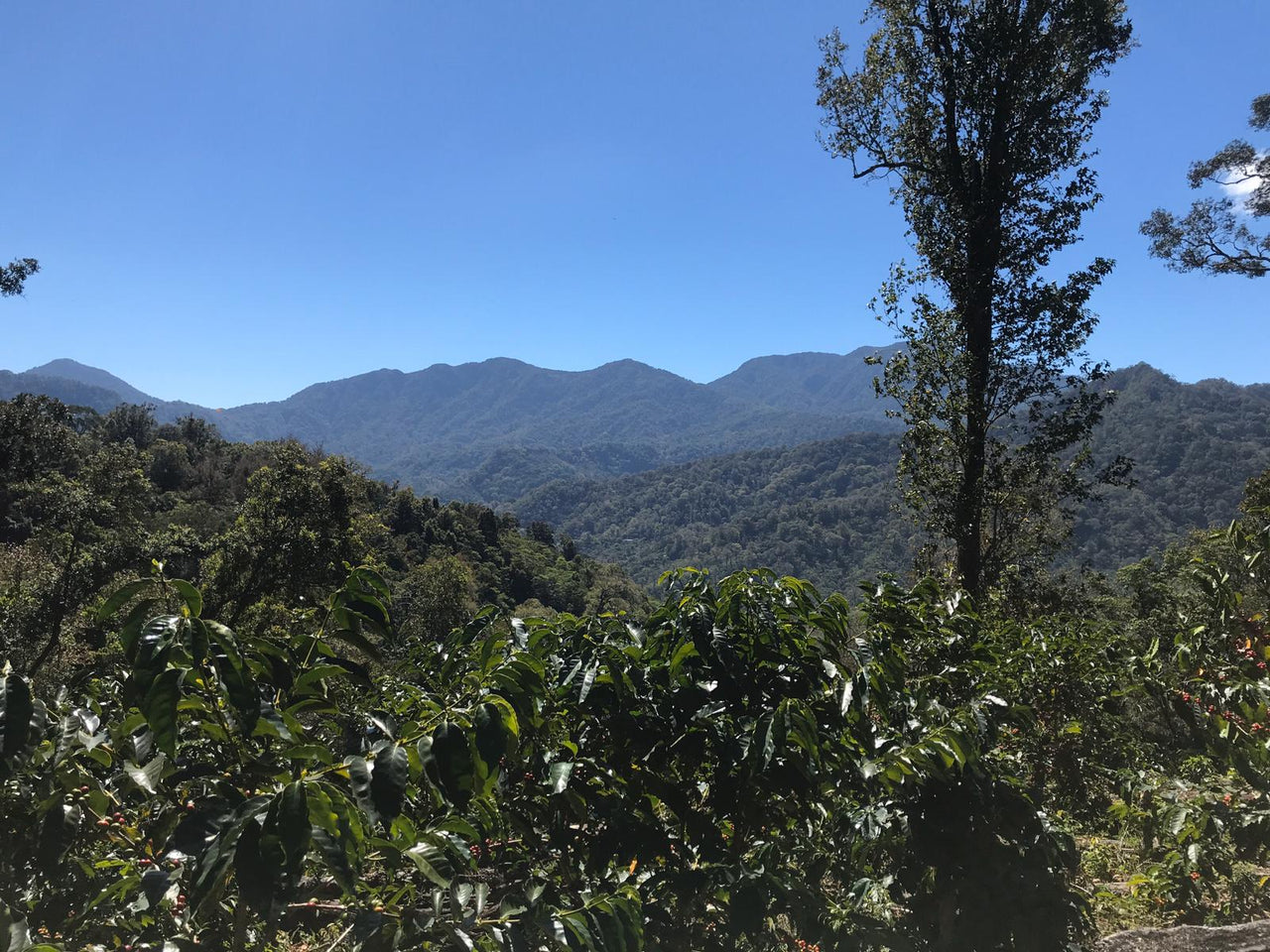 Ethiopia Guji
From deep in the forests of Guji comes Gogogu wet mill, bringing with it incredibly ripe blackberry, blazing acidity, and classic Ethiopian florals like bergamot and jasmine. Believe it or not, the stellar coffees within this high (the highest in all of Ethiopia at 2310 masl), densely forested region in the Uraga woreda were once trucked across the border to Yirgacheffe and sold there as Yirgacheffe coffees because no one had yet recognized their distinct character. Now coffees within Guji Uraga deserve their own differentiation. In the southernmost forest of the Uraga region lies the Ugo Begne forest and Wate Gogogu community, where the Gogogu washing station produces a truly singular coffee. The wet mill is located on a plain surrounded by smallholder farms that supply cherry to the mill.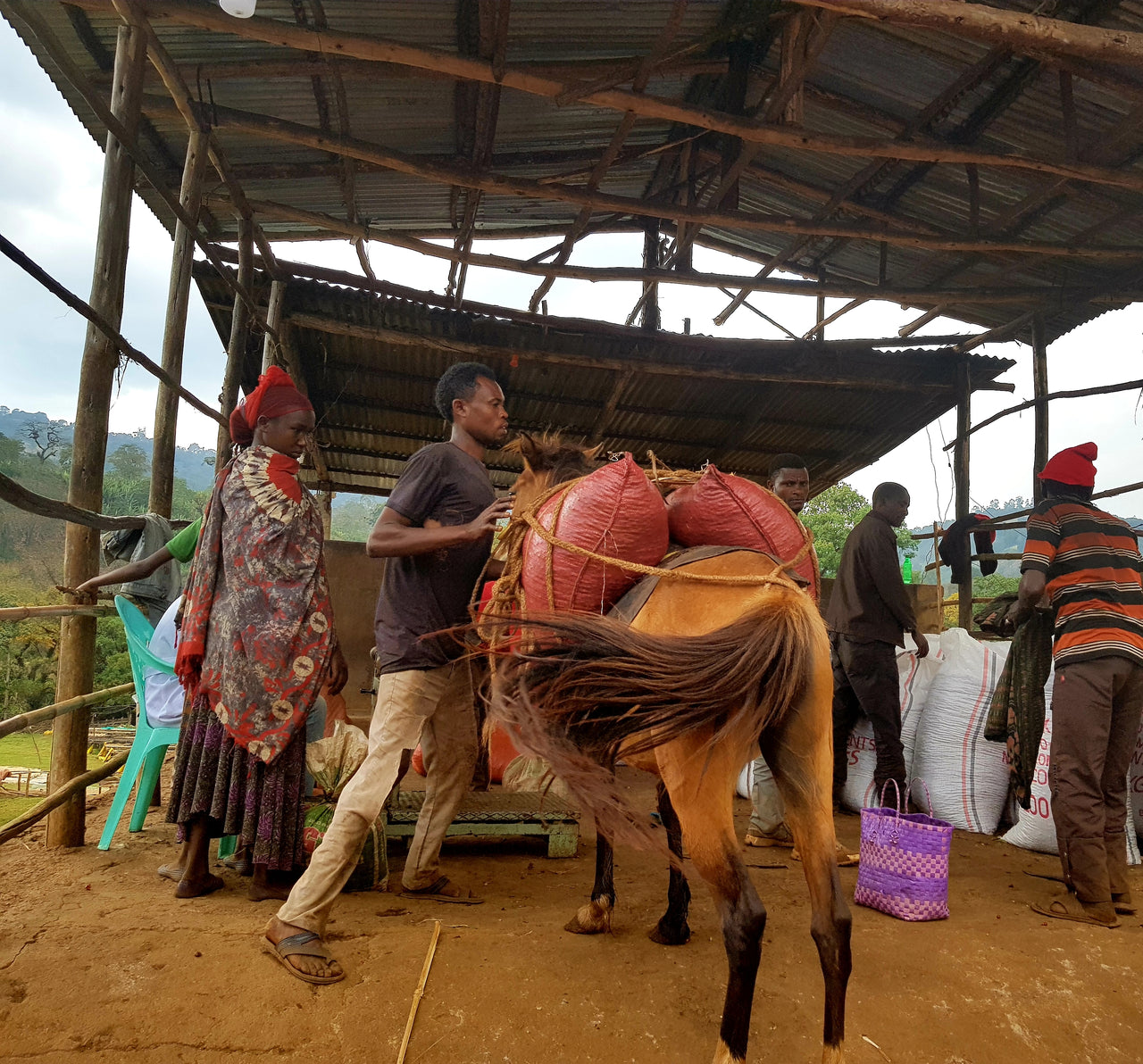 Managed by lifelong coffee trader Kedir Jebril (brother of Larcho Torka producer Abdi Jebril and Yabitu Koba producer Feku), Gogugu's coffee goes through a meticulous process: he leaves freshly peeled seeds underwater for 60 hours compared to the average washing station's 48. Coffees are then washed vigorously in elongated channels while also being selected for quality. The less dense Grade 2 quality beans are sifted off the top of the channel and taken to their own drying stations. The denser Grade 1 coffees eventually make it to a soaking tank where they'll sit overnight removing any excess mucilage from the seed before they're sent to the drying beds. Kedir keeps his parchment coffee covered in mesh for the first 5-6 days in order to avoid cracking and direct exposure to sunlight which can damage the integrity of the beans. After this first drying period the coffee is then opened to sunlight and left to dry for another 5-6 days before being conditioned in the storage warehouse for upwards of a month.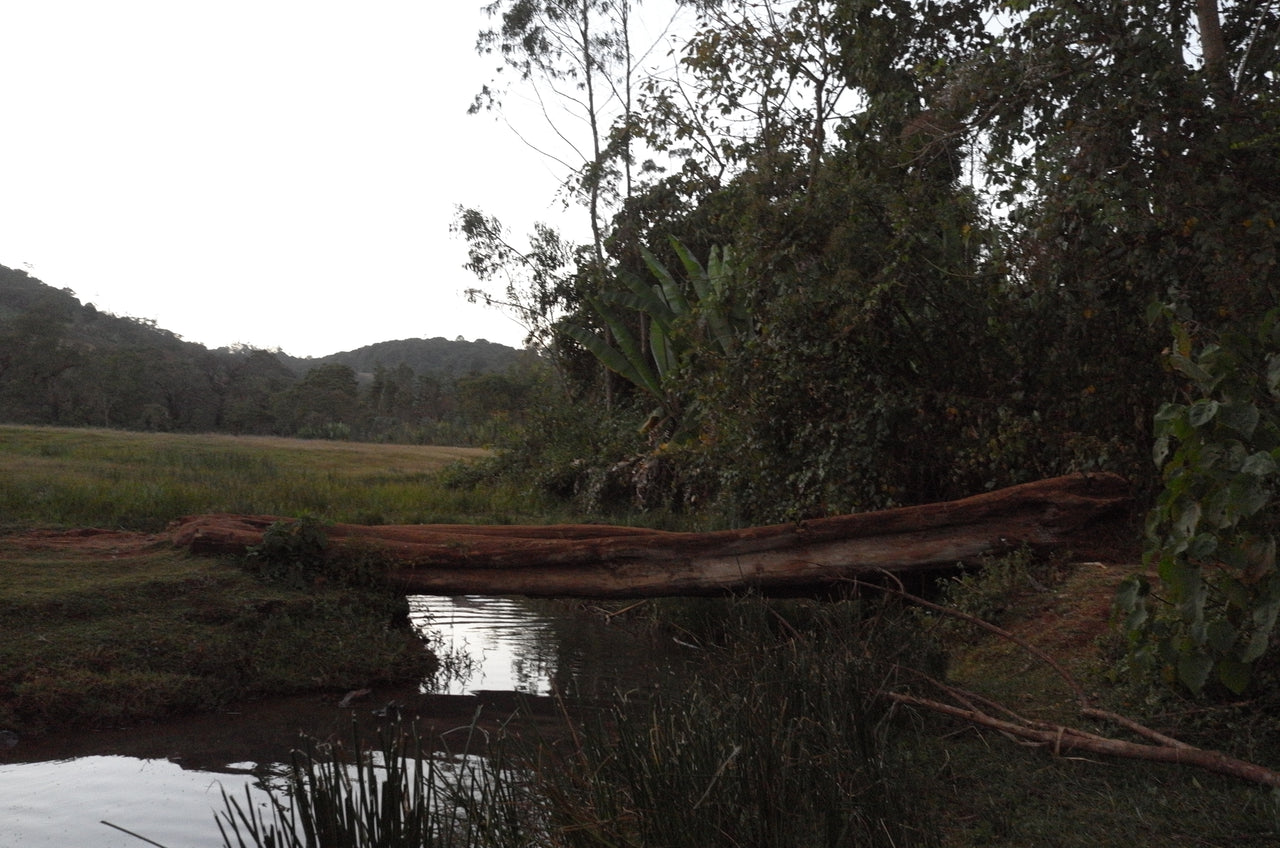 Colombia
Manos Juntas is a micromill in Sotara area of Colombia's Cauca region, operated and managed by our exporting partners at Banexport. The entire concept of this micromill is based on simplifying tasks and responsibilities, for both producers and Banexport. This particular offering was first purchased in its cherry form when delivered to the mill by eight local producers, on the day of harvest. Upon arrival, the Brix and pH were recorded, and the cherries are placed in large hermetic tanks for a five-daylong anaerobic fermentation: Each tank is labeled with the name of the producer, to retain traceability. During this period, nitrogen gas is introduced into the tanks in order to stimulate the yeast. Brix and pH are measured constantly through this process and are used to determine the stopping point for fermentation; the coffee is then subjected to 20°C temperatures in order to cease fermentation and remove the yeast and other microorganisms. The cherry is then "aged" in tanks for a period of five more days before they are taken to solar dryers. Drying takes 30–45 days. Once dried, the coffee is cupped and samples are sent to Cafe Imports. They are then approved, milled, and shipped.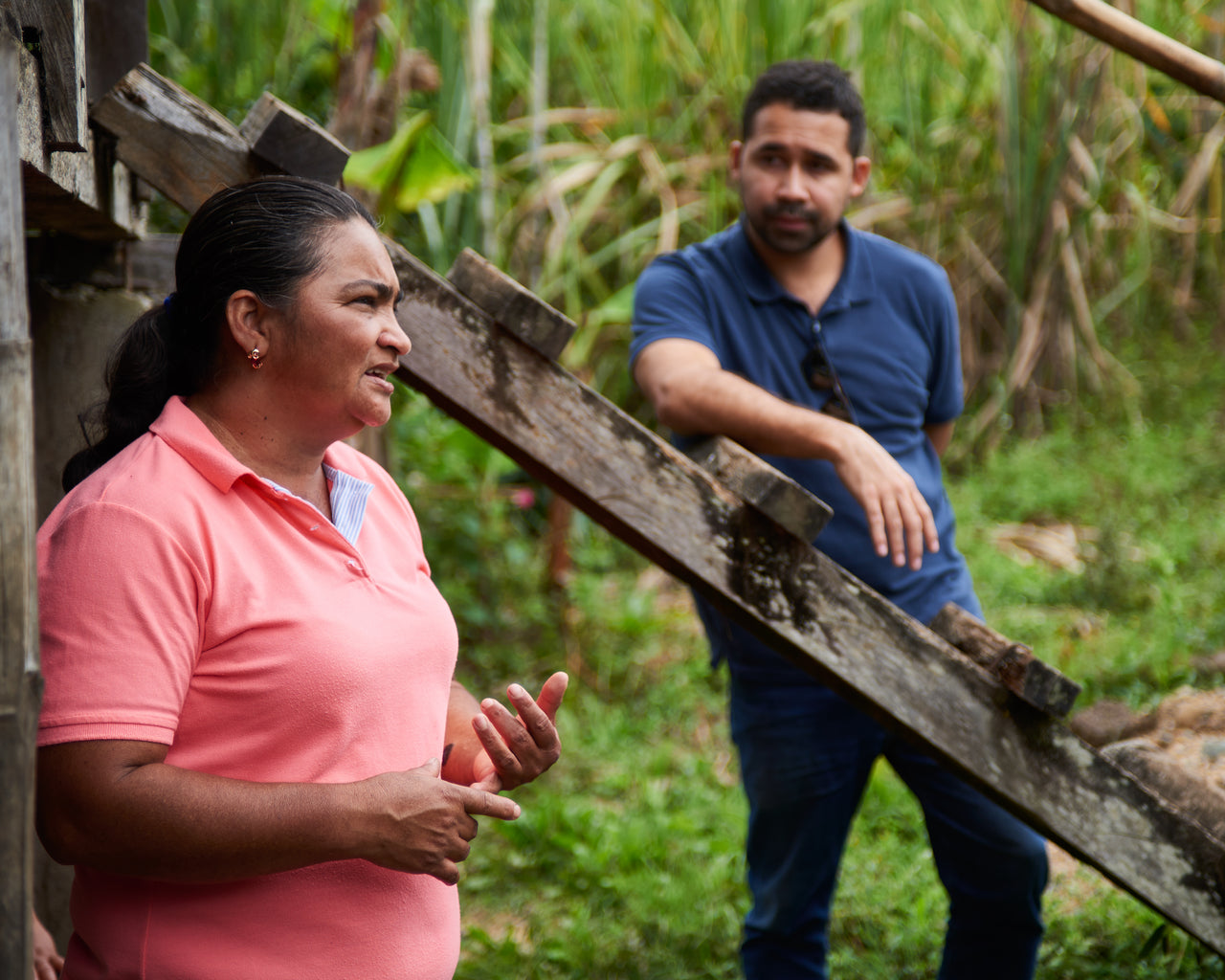 Banexport believes that when it comes to a breakdown in factors that contribute to quality: • 50% is determined by crop production (fertilization, pruning, and proper harvest of cherries) • 50% is determined by post-harvest processing (fermentation, pulping, drying, and storage) Based on this understanding, Banexport decided to establish Manos Juntas Micromill, in which they purchase cherries from producers and manage the processing, drying, and storage themselves. This model allows producers to focus on healthy production of specialty coffee, while the meticulous work of sorting, processing, drying, and storing is managed by Banexport's team.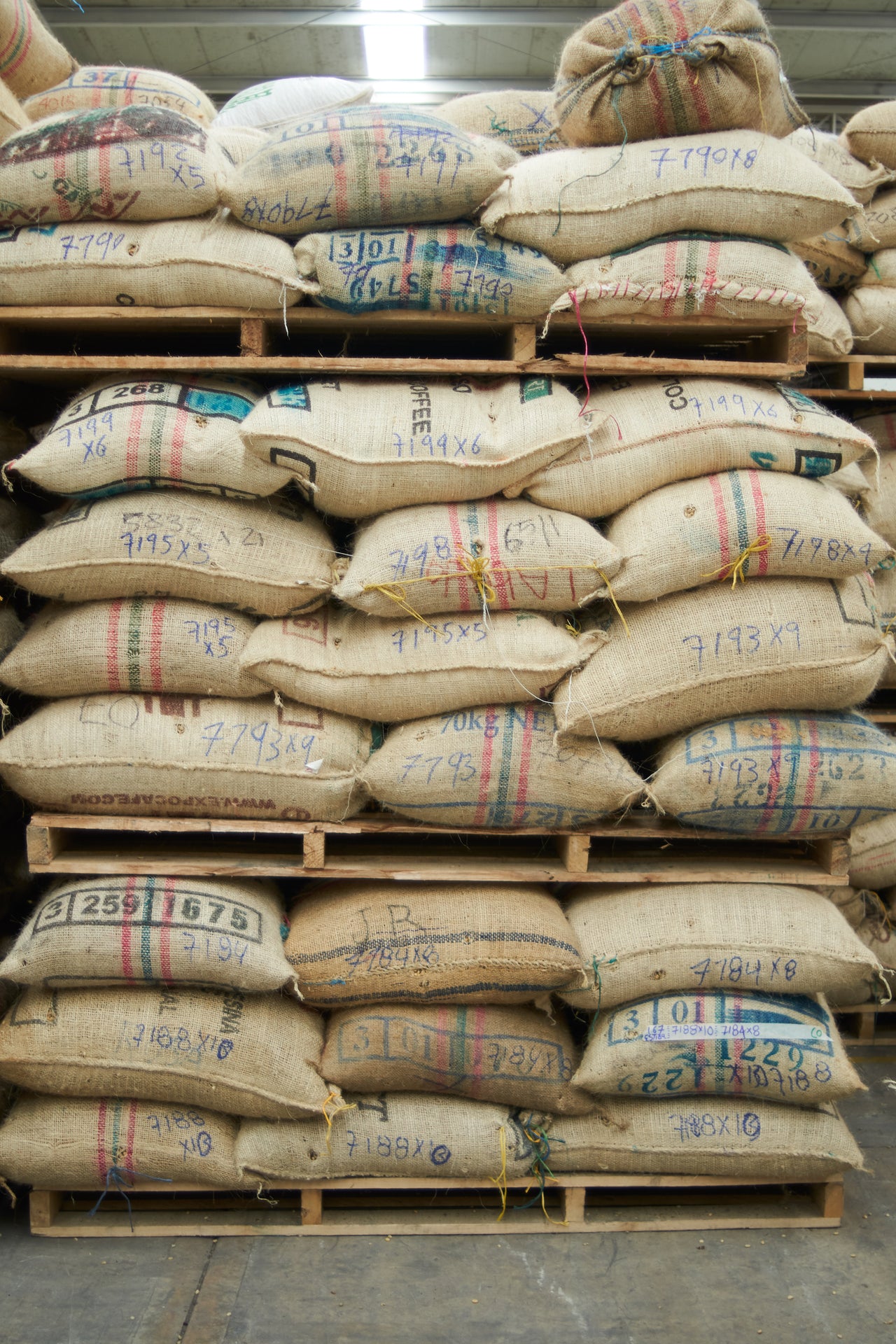 Ethiopia Nano Challa
Historically one of the most coveted coffees in all of Western Ethiopia, Nano Challa membership did such an amazing job with production and processing over the last decade that the tremendous premiums they were receiving caused their membership to swell to a level that pushed their capacity as far as it could go. This year, they opened a new facility called Nano Genji a few miles away with brand new Penagos equipment along with dozens of drying beds to accommodate their growing membership. With 630 members between the two washing stations, they're looking forward to continued growth and success—and we're looking forward to even more, even better coffee this year and beyond. Part of the larger Agaro region in Jimma, these coffees have always formed a core of the Red Fox menu. In fact, our relationship with Agaro extends back far before Red Fox was born. In 2009 when Aleco first traveled to meet the people behind the Nano Challa cooperatives, their coffees were flowing into the marketplace undifferentiated and undervalued. Once USAID's Technoserve project, which focused on improving African coffee farmers' lives by helping them get better prices for their coffee, established the Nano Challa washing station, Aleco saw the unique character of their coffee and invested in developing relationships with its producers, which have grown stronger to this day.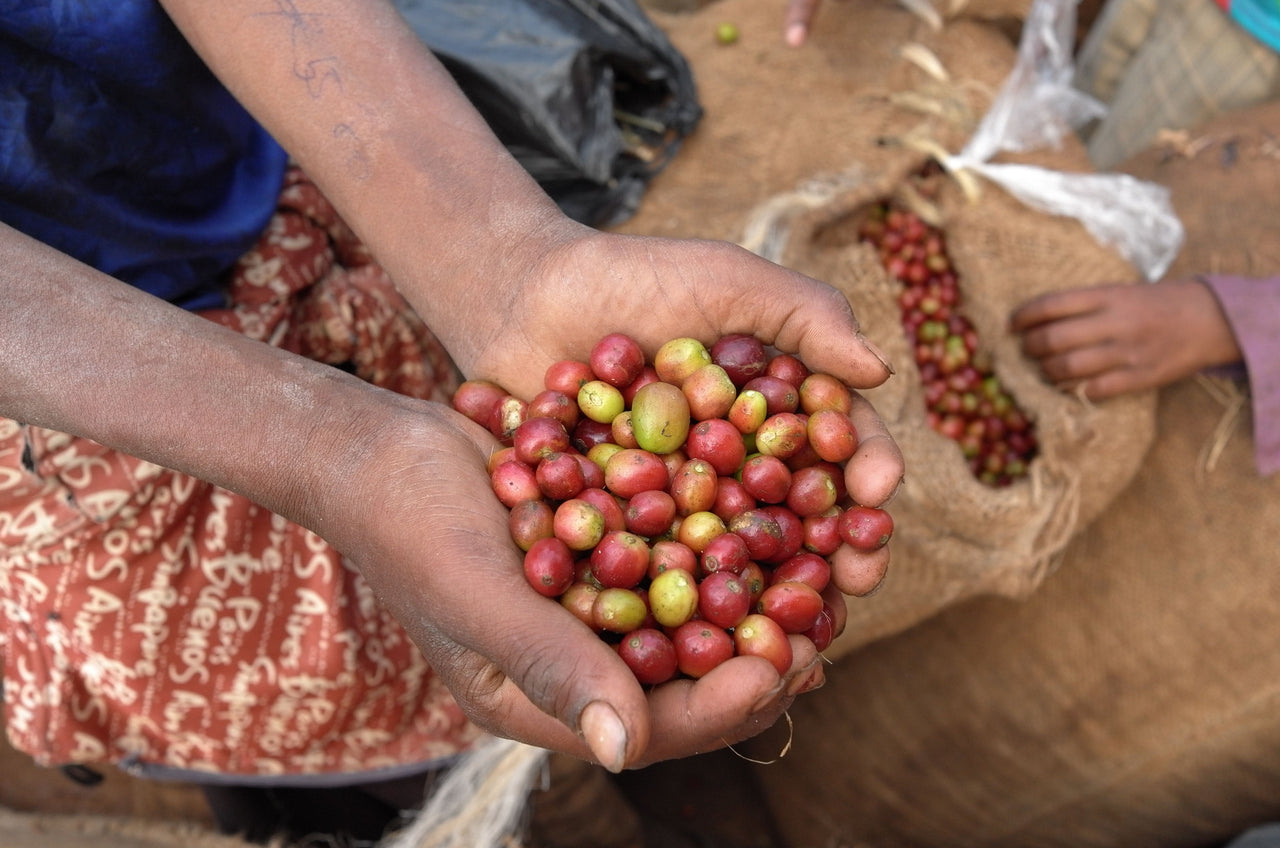 Ten years later, due to our longstanding relationship with the leaders of the larger Kata Muduga cooperative union, we're proud to have the right to first selection in this region, and the results of that opportunity are clear on the cupping table. Nano Challa brings an intense, lively sweetness like candied ginger and a sparkling, champagne-like finish, a testament to the work put into these coffees during growing, picking, processing, and beyond.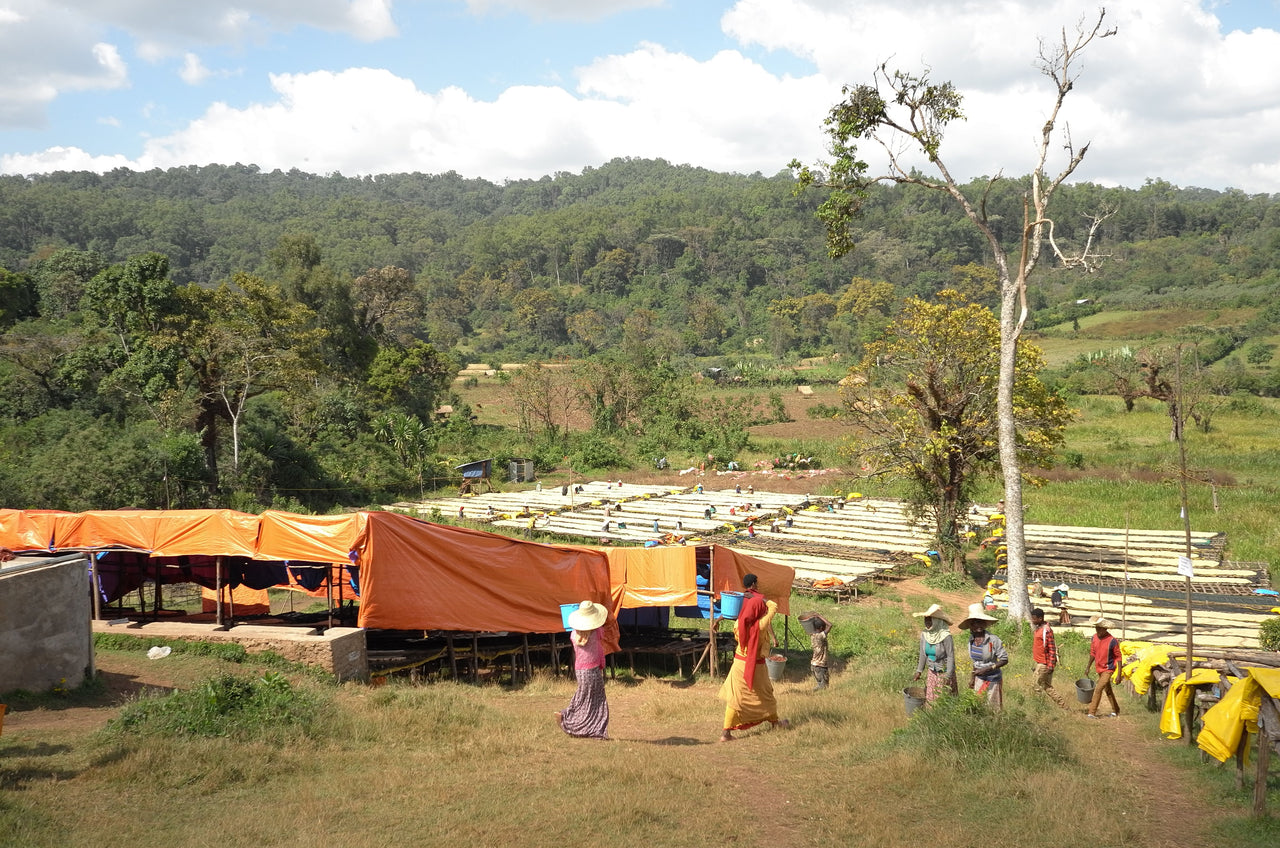 Guatemala
Chimaltenango is what initially drew Red Fox to Guatemala. With soaring altitudes reaching over 2000 masl while loaded with old Typica and Bourbon varieties, Chimaltenango produces some world class coffees with immensely balanced and approachable characteristics. The cup profile truly is classic Guatemala goodness with a little something extra; showcasing, above all, sweetness and depth with dominant warm sugar browning tones, baked apple, and orange peel as the most prevalent of our flavor notes, but there is also juicy raspberry, hibiscus, pomegranate, and wildflower honey flavors to be found in the best lots. Small producers in northern Chimaltenango call Typica 'gigante,' or 'giant,' for the long curved shape of the seed. Typica is planted abundantly, alongside smaller amounts of Bourbon and Caturra, in an area of northern Chimaltenango defined by San Jose Poaquil, Comalapa, and San Martin Jilotepeque. This region has ideal conditions for growing these older varieties, with elevations exceeding 2050 masl. Often, these smallholders have less than one hectare of coffee planted, and most harvest their own cherries, taking them to nearby receiving stations where they are then processed and dried in Antigua.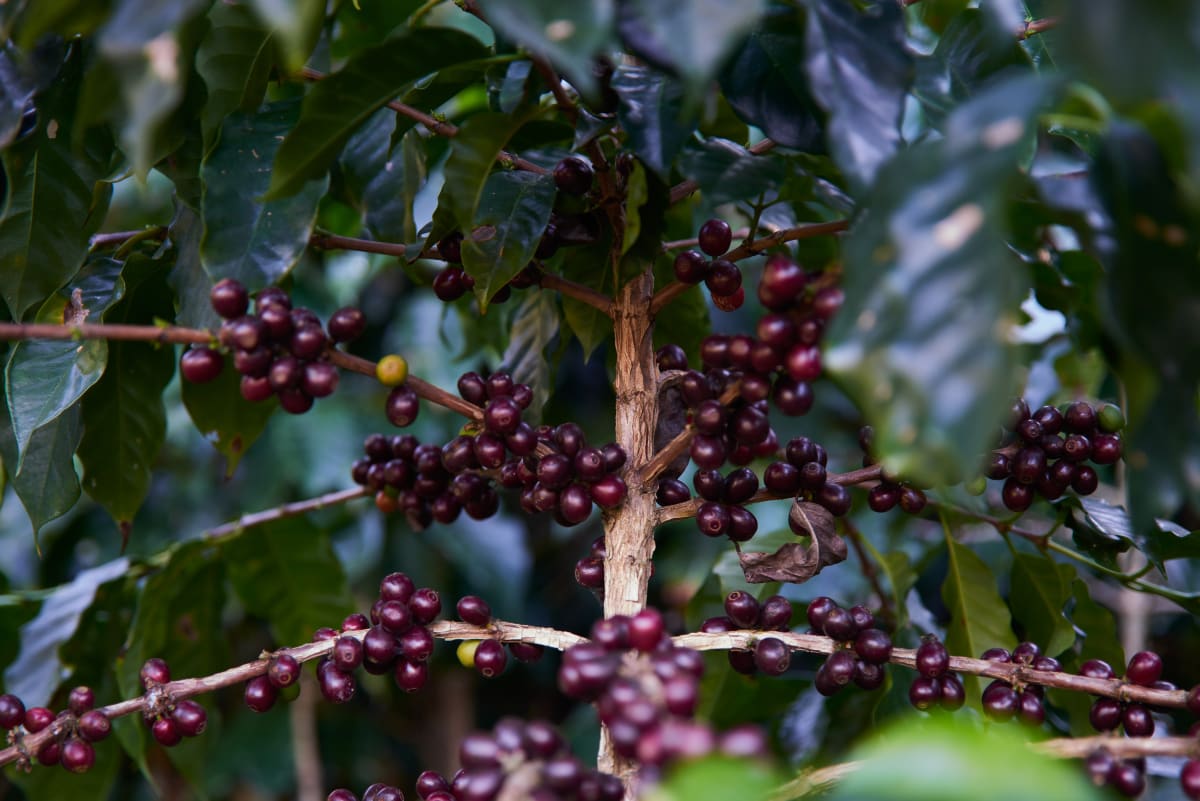 A couple years ago we extended our focus on a special project in the municipality Santa Bárbara of Huehuetenango. In this remote area, a small receiving station has been developed to service the coffee growers of this region. Assembling and separating lots by cup quality is procedure here. Up to 2,000 samples are cupped on average during the harvest season. Similar to Chimaltenango, the alluvial soil and dynamic terroir of this region harnesses some of the oldest coffee varieties such as Bourbon and Typica.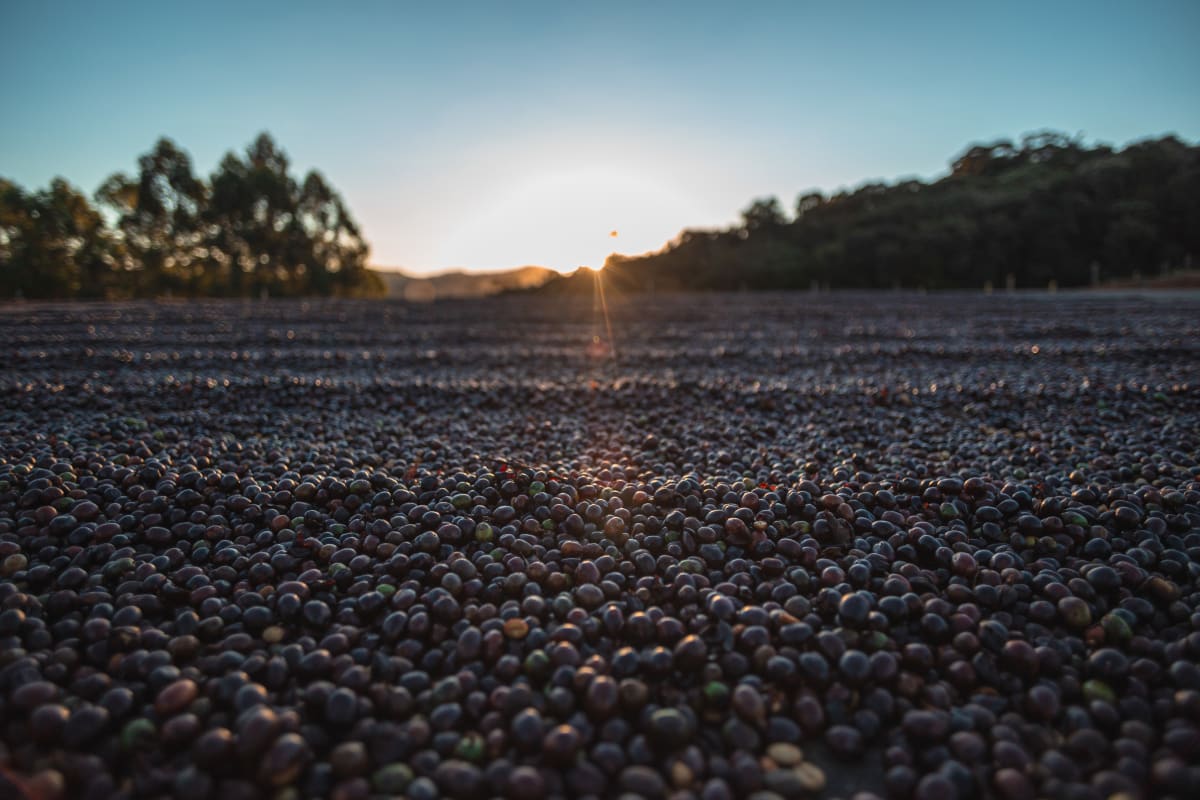 El Salvador
Known as "the land of volcanoes," El Salvador is the smallest Central American country (roughly the same size as New Jersey), but its reputation among specialty-coffee-growing regions has grown larger-than-life, especially since the early 2000s. While coffee was planted and cultivated here mostly for domestic consumption starting in the mid-1700s, it became a stable and significant crop over the next 100 years, notably increasing in national importance during the late 1800s, when the country's indigo exports were threatened by the development and widespread marketability of synthetic dyes.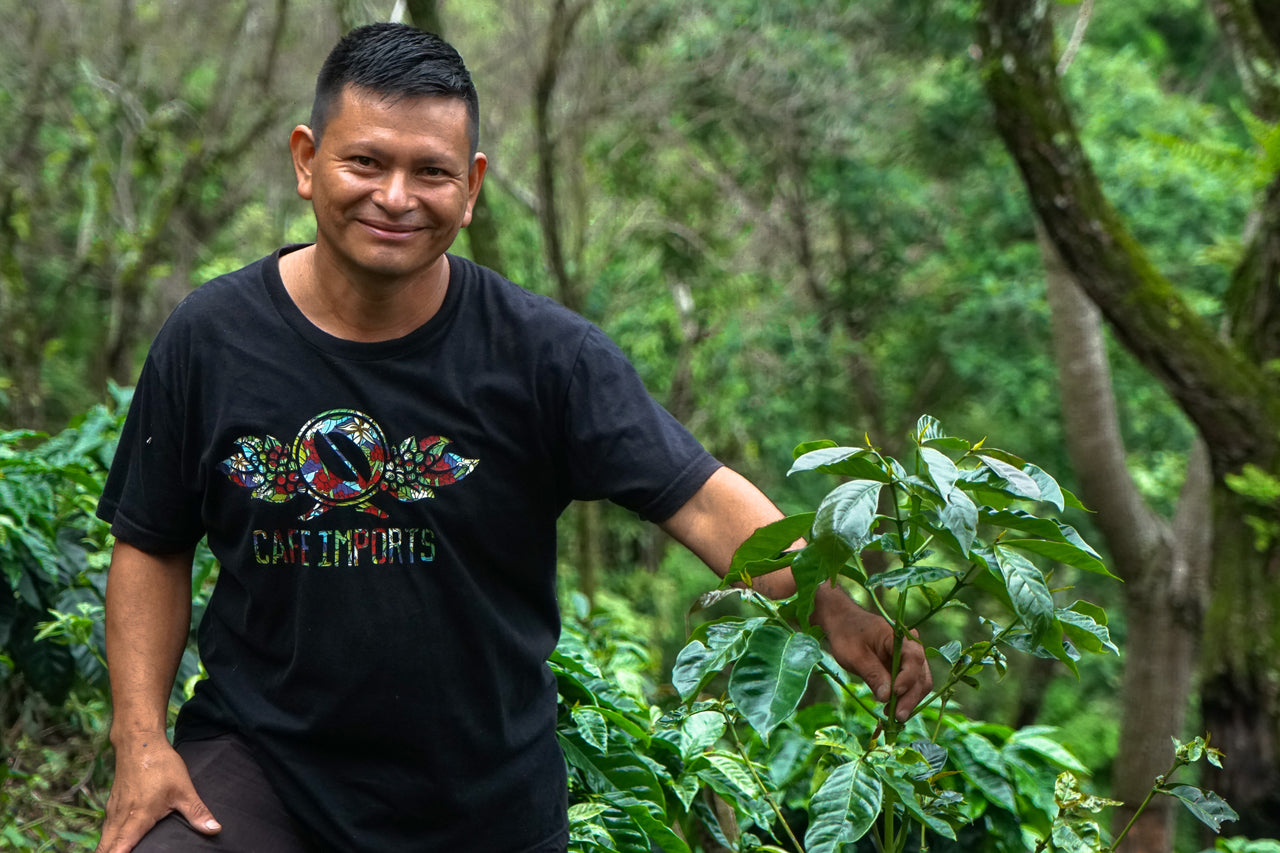 Orlando Aguilar comes from a coffee producing family, which has developed traditions in El Salvador. As a producer himself, he has focused on specialty coffee by working with strong varieties in an ideal climate with good, fertile soil. The harvest at Buena Vista farm is done selectively and by hand. After harvest, the coffee is fermented in sacks for 9–12 hours before being depulped, washed, and dried on raised beds for 10–13 days.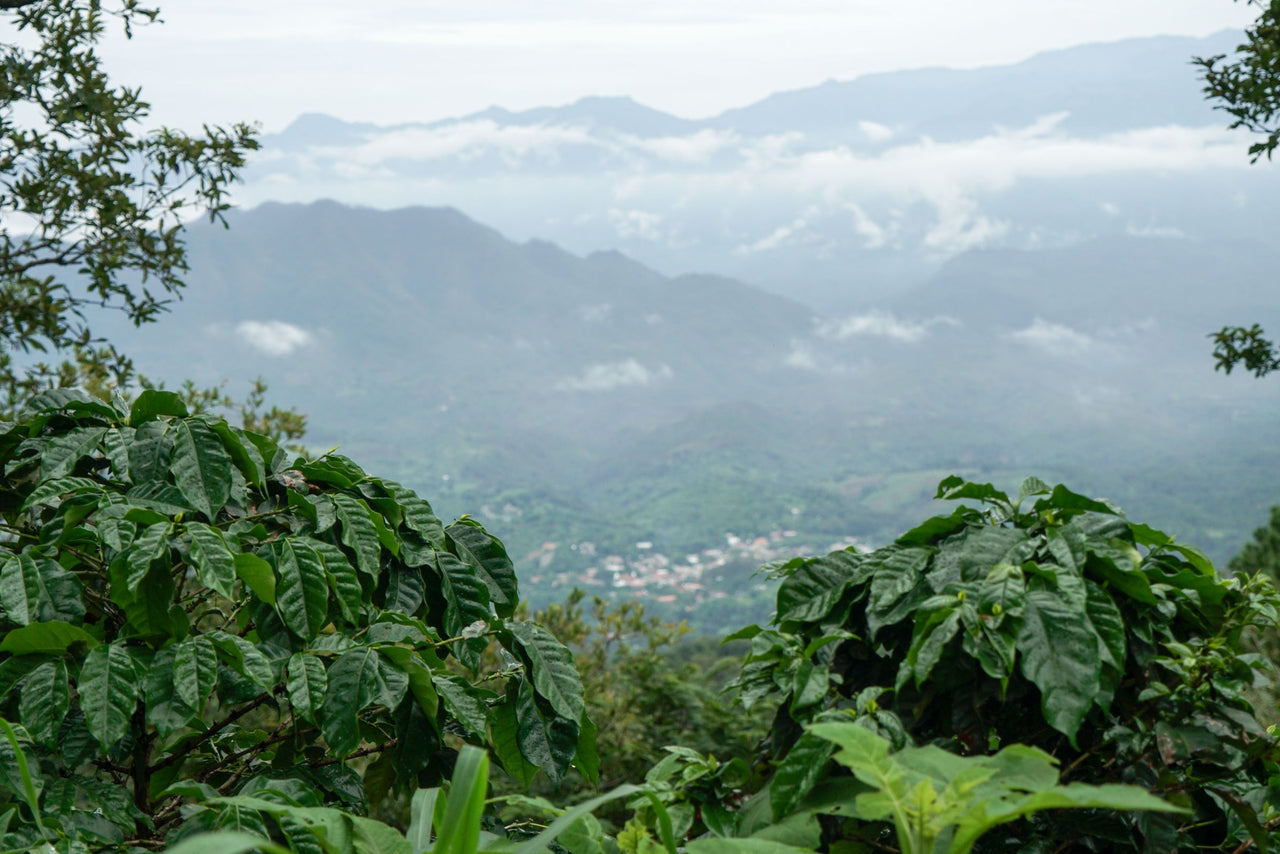 Region: Chiapas, La Concordia
Farm/ Farmer: Santa Cruz, Pepe Arguello
Varietal: Bourbon, Typica, Yellow, Caturra, Geisha
Processing Method: Washed
Elevation: 1360-1750 Mast
Tasting Notes: Winey Fruit, Cranberry, Coffee Cherry and Cocoa Flavors
Region: Guji, Uraga
Farm/ Farmer: Gogogu Bekaka
Varietal: Ethiopia Landraces (Kurume, Wolisco)
Processing Method: Washed mechanically through delvas and then soaked for 60 hours
Elevation: 2000-2280 masl
Tasting Notes: Raspberry, Champagne, Vanilla Bean
Region: Colombia, Cauca
Farm/ Farmer: Eight Smallholder Producers
Varietal: Castillo, Colombia, F6
Processing Method: Natural
Elevation: 1950–2100 masl
Tasting Notes:
Region: Jimma, Agaro Gera
Farm/ Farmer: Kata Muduga Union
Varietal: Ethiopia Landraces
Processing Method: Washed mechanically through delvas and then soaked for 12 hours
Elevation: 1900-2200 masl
Tasting Notes: Blackberry, Orange Blossom, Lime
Region: San José Poaquil, Guatemala
Farm/ Farmer: Chimaltenango
Varietal: Bourbon, Caturra Typica
Processing Method: Washed
Elevation: 1800-2000 masl
Tasting Notes: Honey, Floral, Dark Chocolate
Region: Chalatenango, El Salvador
Farm/ Farmer: Buena Vista
Varietal: Pacas
Processing Method: Washed
Elevation: 1300 Mast
Tasting Notes: Tart Lemon, Chocolate, Brown Sugar